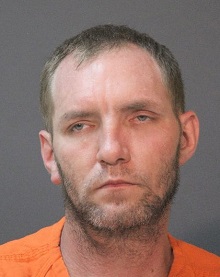 Lake Charles –
On November 5 at approximately 1:00 a.m., a Calcasieu Parish Sheriff's Office deputy initiated a traffic stop on a truck near Park Avenue and Shell Beach Drive in Lake Charles for a traffic violation.
When the deputy spoke with the driver, Derrick A. Hayes, 34, 18223 Foreman Road, Iowa, he detected an odor of alcohol coming from his breath.  The deputy also observed Hayes to have blood shot eyes and trouble keeping his balance.  Hayes, who has 3 previous DWI arrests, refused to perform all sections of the standard field sobriety test.  He was arrested and transferred to the Calcasieu Parish Sheriff's Office to take a breath intoxilyzer test; which he also refused. 
Hayes was booked into the Calcasieu Correctional Center and charged with DWI 4th; and defective tail lamps.  Judge Sharon Wilson set his bond at $25,100 with special conditions being he cannot operate a vehicle without an ignition interlock device and a valid driver's license and he may not possess any alcohol. 
CPSO Deputy Sr. Cpl. Ryan Tarver is the arresting deputy on this case.