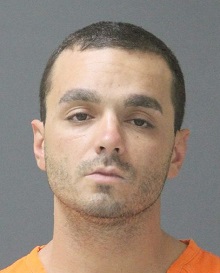 Lake Charles, LA –
 On October 17 at approximately 9:50 p.m. Calcasieu Parish Sheriff's Office deputies responded to a home on Vermillion Drive in Lake Charles in reference to a man walking in the victim's backyard.  When deputies arrived they viewed video surveillance at the victim's home which showed a man opening the door to the victim's truck, which had been left unlocked.  The video footage then showed the suspect walking into the victim's backyard. 
Detectives were able to identify the suspect seen in the video surveillance as Joshua R. Langford, 26, 3371 Sancess Road, Lake Charles, and on October 19 Judge David Ritchie signed a warrant in the amount of $26,000 for his arrest.  On October 23, Langford was located and when detectives interviewed him he advised he had gone to the victim's residence and was looking for tools.  Langford also advised detectives he had taken two bags of tools out of the victim's truck.  He was arrested and booked into the Calcasieu Correctional Center and charged with attempted simple burglary; attempted theft; and criminal trespassing. 
Due to the warrant being issued before detectives learned items were stolen from the truck Langford was charged with attempted theft.  It will be up to the Calcasieu Parish District Attorney's Office to upgrade the charge.   
CPSO Detective Michael Conner is the lead investigator on this case.