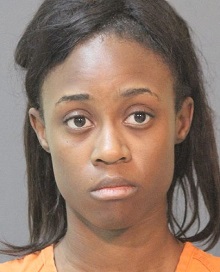 Lake Charles –
On October 2 the Calcasieu Parish Sheriff's Office Animal Cruelty Investigator along with Calcasieu Parish Animal Services (CPAS) responded to a call from the Lake Charles Housing Authority to a home on Gertrude Drive in Lake Charles in reference to a deceased dog located inside the home.
Upon arrival, detectives observed the deceased dog, located inside a small crate without water, to be extremely emaciated.  During further investigation, after the necropsy was performed on the dog, it was advised by doctors that the animal died as a result of severe dehydration and starvation due to a foreign object found in the animal's stomach.  Doctors also advised detectives this stage of starvation was due to months of inadequate nutrition. 
When detectives were leaving the home the resident, who is also the owner of the dog, Camilla E. Ross, 644 Gertrude Drive #27, Lake Charles, arrived.  Ross advised detectives she left home on September 24 to go out of town and had just returned back in town.  She stated when she left she provided the dog with food, but forgot to leave water.  She also stated to detectives she was aware the dog was not eating, but did not bring it to a veterinarian. 
Ross was arrested and booked into the Calcasieu Correctional Center and charged with aggravated animal cruelty.  She was released later that evening on a $5,000 bond set by Judge Clayton Davis. 
CPSO Detective Jennie Duncan is the lead investigator on this case.