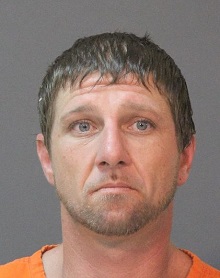 Lake Charles –
On September 25 at approximately 11:20 p.m. Calcasieu Parish Sheriff's Office deputies conducted a stop on a car on North Beglis Parkway in Sulphur for a traffic violation.
Deputies made contact with the driver, Louis J. Stoddard, 36, 3818 Stegal Road, Sulphur, a registered sex offender, and learned he was in control of a vehicle that was not registered with law enforcement, making him in violation of his sex offender registration requirements.  After further investigation deputies received written permission to search the car from the owner, who was a passenger in the car.  The search revealed a glass smoking device under the driver's side floor mat, a plastic box containing numerous glass smoking devices in the back seat, and a scale located inside the center console. 
When the deputy questioned Stoddard he advised all of the paraphernalia belonged to him.  He was arrested and booked into the Calcasieu Correctional Center and charged with failure to register as a sex offender; improper display of temporary tag; no insurance; no registration; and possession of drug paraphernalia.  Stoddard was released the next day on a $5,000 bond set by Judge Ronald Ware.
Stoddard was convicted of carnal knowledge of a juvenile in Calcasieu Parish in 1999.
CPSO Sr. Cpl. Mark Rosteet and Cpl. Anthony Williams are the arresting deputies on this case.