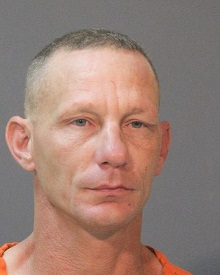 Lake Charles –
On September 23, at approximately 9:50 p.m., a Calcasieu Parish Sheriff's Office deputy initiated a traffic stop on a truck traveling on Sam Houston Jones Parkway in Moss Bluff for a traffic violation.
When the deputy spoke with the driver, Tate A. Hue, 42, 4200 Luke Powers Road #38, Lake Charles, he detected a strong odor of alcohol coming from inside the truck.  The deputy also observed Hue to have glossy eyes.  When the deputy asked Hue if he had anything to drink he initially stated no, but then advised the deputy he had 6 beers before driving his truck. 
Hue, who has 3 prior DWI convictions, refused to perform a standard field sobriety test.  Hue was arrested and transferred to the Calcasieu Parish Sheriff's Office to take a breath intoxilyzer test; which he also refused.  He was booked into the Calcasieu Correctional Center and charged with DWI 4th; modification of exhaust systems; and turning movements required.  Judge Clayton Davis set his bond at $20,600 with special conditions being he cannot operate a vehicle without an ignition interlock device and he must wear an alcohol detecting ankle bracelet.
CPSO Deputy Cpl. Travis Killmer is the arresting deputy on this case.