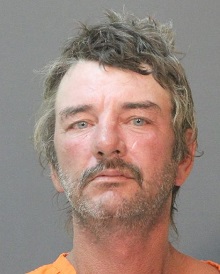 Lake Charles –
On September 16 at approximately 1:10 p.m. Calcasieu Parish Sheriff's Office deputies were dispatched to the area of Edgerly DeQuincy Road in Vinton in reference to a truck that was swerving in and out of the lane of travel.  When deputies arrived on scene they located the truck already stopped on the roadway.  Deputies approached the truck and made contact with the driver, Larry G. Marcantel, Jr., 50, 3641 Marcantel Road, Vinton, who was slouched over in his seat.  Deputies also detected an odor of alcohol emitting from the cab of the truck.  When deputies instructed Marcantel to exit his truck they observed him to have very unsteady balance and needed assistance to stand.  Deputies also observed Marcantel to have slurred speech and a strong odor of alcohol emitting from his breath.  While speaking with deputies Marcantel advised them he was drinking beer while driving home from Texas.
After Marcantel performed poorly on a standard field sobriety test, he was arrested and transferred to the Calcasieu Parish Sheriff's Office to take a breath intoxilyzer test; which he refused. 
Marcantel, who is currently on probation for DWI 4th, was booked into the Calcasieu Correctional Center and charged with DWI 5th; and a traffic violation.  Judge Guy Bradberry set his bond at $51,000.
CPSO Sr. Cpl. Christopher Rabb, Cpl. Kirk Carroll, and Deputy Larry Fontenot are the arresting deputies on this case.