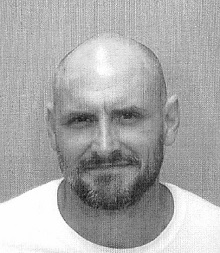 Lake Charles -
On June 24 at approximately 5:50 p.m., Calcasieu Parish Sheriff's Office deputies were dispatched to a home on Van Meter Road in Starks in reference to a trespassing that occurred on June 21.
During the follow up investigation detectives viewed video surveillance footage at the home which showed a man, later identified as James F. Connolly, 47, Vidor, Texas, walk up to the front door of the residence and then walk around the property.  The surveillance footage also showed Connolly, who was carrying a firearm, enter a shop on the property.
On August 2, after further investigation, detectives issued a warrant for Connolly's arrest signed by Judge Guy Bradberry.  Connolly is being charged with criminal trespassing; unauthorized entry of an inhabited dwelling; and possession of a firearm by a convicted felon.  His bond is set at $22,500.  Detectives attempted to locate Connolly, but were unsuccessful.  If anyone has any information regarding his whereabouts please call the Calcasieu Parish Sheriff's Office at 491-3605.
CPSO Detective Troy Thibodeaux is the lead investigator on this case.