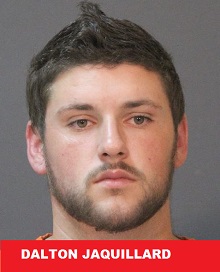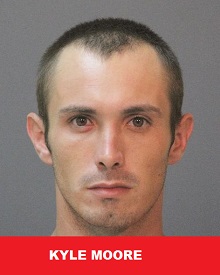 Lake Charles, LA –
On July 21 Calcasieu Parish Sheriff's Office detectives with the Vehicle Crimes Investigative Unit (VCIU) received a tip in reference to Dalton J. Jaquillard, 23, 1428 Shaw Drive, Vinton, being in possession of a boat that was believed to be stolen. 
The same day VCIU detectives conducted surveillance on Jaquillard and witnessed him pulling the suspected stolen boat in Vinton.  Detectives later located the boat parked in a parking lot on West Street in Vinton and when they checked the registration they were able to confirm the boat had been reported stolen from a business in Sulphur on June 15.  Detectives continued to conduct their surveillance and located Jaquillard, as well as, a passenger, Kyle M. Moore, 24, 1303 North Street, Vinton, parked at a car wash in Vinton.  When deputies attempted to make contact with the men, Moore fled on foot.
When detectives spoke with Jaquillard he stated that Moore placed a stolen engine on the boat.  When detectives ran the VIN from the motor, they confirmed the motor was reported stolen from a business in Lake Charles.  Jaquillard also advised detectives he, as well as Moore, were responsible for two vehicle burglaries in a parking lot of a refinery in Sulphur, one of which a truck window was busted out. 
Later the same day detectives located Moore.  When they spoke with him he confirmed that he and Jaquillard were responsible for the vehicle burglaries in a parking lot of a refinery in Sulphur.
Jaquillard and Moore were arrested and booked into the Calcasieu Correctional Center and both charged with simple burglary; theft under $750; and criminal damage to property.  Judge Sharon Wilson set Jaquillard's bond at $30,000 and Moore's bond at $5,000. 
The burglary and theft cases are still under investigation and more charges are possible.