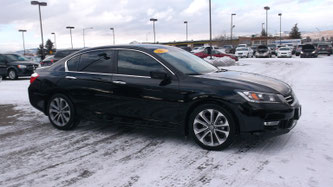 Lake Charles, LA –
On July 24 at approximately 6:40 p.m. a hit and run accident occurred on Parish Rd. (between the parking lots of Market Basket and Walmart) in Moss Bluff.  A late model, black 4 door Honda Accord with tinted windows (similar to the one in the attached picture) was traveling east on Sam Houston Jones Parkway prior to entering the Market Basket parking lot from the south.  The car then exited to the east, crossing Parish Rd., when it struck a northbound motorcycle.  The Honda Accord then fled the area and was last seen traveling east on Sam Houston Jones Parkway in the far right lane, possibly headed to Lake Charles.
The Honda Accord will have damage to the passenger side in the area where the front and rear doors meet.  If anyone has any information or know the whereabouts of the car or the identification of the driver/owner, please contact Sgt. Bryan Guth at (337) 491-3846.  If Sgt. Guth does not answer, please leave a message and he will return the call as soon as possible.
The driver of the motorcycle was treated at a local hospital for a broken arm and released.