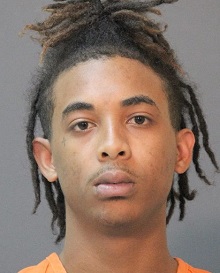 Lake Charles –
On June 5 at approximately 9:00 a.m. the Calcasieu Parish Sheriff's Office responded to a local hospital in reference to a patient arriving at the hospital that had been shot.  When deputies arrived at the hospital they spoke with two witnesses who stated the victim was shot on the railroad tracks near the intersection of 13th Street and 3rd Avenue in Lake Charles.  The witnesses also stated Octavious T. Dixon, 18, 1612 13th Street, Lake Charles, as well as two other individuals, approached the victim on the railroad tracks and Dixon then shot the victim with a handgun.   All three suspects fled the scene.  Later the same day, after further investigation Judge Robert Wyatt signed a warrant for Dixon's arrest. 
On Friday, June 9, at approximately 1:00 p.m. Dixon turned himself in to CPSO detectives.  He was arrested and booked into the Calcasieu Correctional Center and charged with attempted second degree murder.  Judge Wyatt set his bond at $150,000.
CPSO Detective Casey Lafargue is the lead investigator on this case.