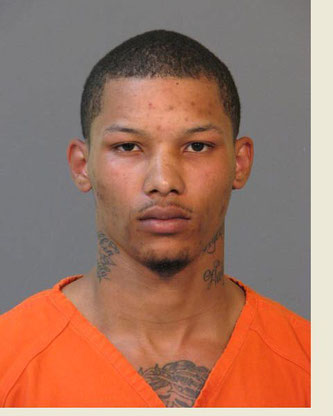 Lake Charles –
In the early morning hours of Sunday, May 28, the Calcasieu Parish Sheriff's Office responded to a report of a disturbance on P. E. Daigle Rd. in Iowa, LA.  Upon arrival deputies learned a man had been shot while inside of his mobile home.  The investigation revealed the victim's fiancée was outside of the home when Robert J. Handy, 27, 4435 Brown St., Lake Charles, and another man pulled up, approached the victim's fiancée and began arguing loudly.
The victim opened the door to his home, at which time, Handy told the victim to go back inside, then cocked a handgun.  Both Handy and the other man began shooting at the home.  The victim's fiancée told the two men that her child was inside of the home, and they continued to shoot at the home, then fled the scene in a truck.
The victim was struck by one of the rounds while he was in his home.  He was transported to a hospital where he is believed to be in stable condition.
The child was not injured.
A warrant has been issued for Handy for 2 counts of attempted 2nd degree murder.  Judge Canaday has set his bond at $1,300,000.  Detectives are attempting to identify the other man who was with Handy outside of the victim's mobile home.
CPSO detectives are asking for the public's help in locating Handy and identifying the other man.  They fled the scene in a maroon Ford F150 pickup truck.  It is believed the truck's license plate is a dealer tag.  If anyone has any information about this shooting or know the whereabouts of Handy and the other man, please call CPSO lead detective Roland Jones at 431-8015 or call 911.