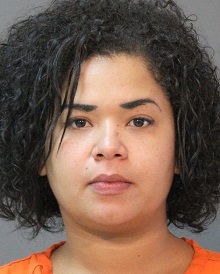 Lake Charles, LA –
On May 24 at approximately 8:00 p.m., Calcasieu Parish Sheriff's Office deputies responded to a store on Hwy 14 in Lake Charles in reference to two children being left at the store.
During the initial investigation deputies learned Krisshata Esclovon, 28, Lake Charles, had left two children, ages 9 and 10, in the store.  The complainant also told deputies that Esclovon had 2 other young children in her car when she left.  Deputies quickly learned of a possible location were Esclovon could be located.  When deputies arrived at the residence they found Esclovon lying on the couch next to an envelope containing suspected marijuana.  When deputies questioned Esclovon as to where the other children were they learned the two children, ages 1 and 4, were still in the car, which was not running and the doors were locked.  Deputies located the keys to the car and were able to get the children out of the car.
Esclovon was arrested and booked into the Calcasieu Correctional Center and charged with 4 counts of child desertion; and possession of marijuana.  Judge Michael Canaday set her bond at $42,500 with special condition being she can have no contact with the children until it is cleared by the Department of Child and Family Services.  Detectives were unable to obtain a statement from Esclovon due to her level of impairment. 
One of the children was released to his mother, the other 3, which were Esclovon's children, were released to the custody of a family member. 
CPSO Deputy Cpl. Joshua Francis is the arresting deputy on this case.