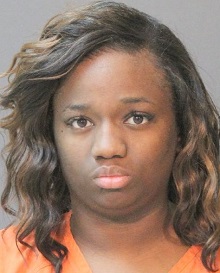 Lake Charles, LA –
On April 7, Calcasieu Parish Sheriff's Office deputies were dispatched to a local business in Lake Charles regarding an employee that was stealing from the company.  Upon arrival, deputies spoke with the complainant who told deputies he believed that the book keeper, Joella K. Moss, 1825 9th Street, Lake Charles, had been stealing money from the company.  He advised deputies they received more than one complaint from a resident who was worried his rent payments were not being used correctly.  The complainant told deputies they began looking into the complaint and discovered discrepancies on their book keeping records, which are kept by Moss.   The complainant advised when they questioned Moss she admitted to stealing a large amount of money. 
During further investigation Moss told deputies she was taking money paid to the company for rent instead of depositing it into the company account.  She told deputies she had been stealing the money since October 2016.  Deputies learned Moss has stolen approximately $30,000 from the company.  She was arrested and booked into the Calcasieu Correctional Center and charged with theft over $25,000.  She was released the next day on a $25,000 bond set by Judge David Ritchie.
CPSO Deputy Cpl. Austen Wright is the arresting deputy on this case.