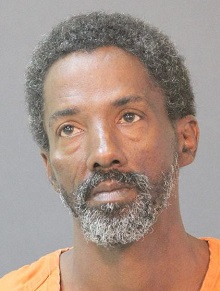 Lake Charles–
The Calcasieu Parish Sheriff's Office Sex Offender Unit arrested convicted registered sex offender Joseph W. Goodwin, 46, Lake Charles, after it was learned he was no longer living at his registered address and failed to notify the proper authorities within three (3) days, as required by law for all registered sex offenders.  On March 27 deputies with the Sex Offender Unit received information regarding Goodwin moving from the address listed on his most recent sex offender registration several weeks ago.  Judge David Ritchie signed a warrant in the amount of $100,000 for Goodwin's arrest.    
On April 4 Goodwin was located and advised detectives he had been homeless.  Goodwin was arrested and booked into the Calcasieu Correctional Center and charged with failure to register as a sex offender.  Goodwin's special conditions of bond are he must register a current address within 24 hours of release and he cannot commit any other crimes.
Goodwin was convicted of sexual battery in 2005 in Calcasieu Parish.
CPSO Sgt. Shannon Chesson is the investigator on this case.