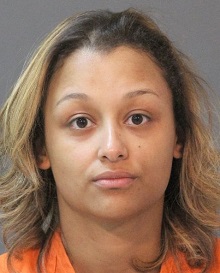 Lake Charles, LA –
On February 17 Calcasieu Parish Sheriff's Office deputies responded to a call at a local casino in reference to suspicious circumstances. 
When deputies arrived they spoke with Amber R. Richard, 26, 104 Royer Loop, Sulphur, who stated she had been raped by a man she met at the bar.  Richard was transported to a local hospital, where she became combative and struck an emergency room employee in the jaw with a closed fist. 
After detectives watched surveillance footage located inside the casino, they questioned Richard and discovered she had filed a false complaint of rape.  Richard advised detectives she was not raped and filed the report due to her being intoxicated. 
On April 3 Richard was arrested and booked into the Calcasieu Correctional Center and charged with battery of emergency room personnel; and filing false public records.  Richard bonded out later the same day on a $3,500 bond.  
CPSO Detective Michelle Robinson is the lead investigator on this case.