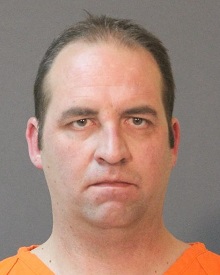 Lake Charles–
In October 2016 the Calcasieu Parish Sheriff's Office received a complaint regarding Jason W. Miller, 42, 2349 Tuna Lane, Lake Charles, sexually assaulting a family member, sometime between 2009 and 2010 when she was 6 years old.  An investigation was conducted by detectives and turned over to the District Attorney's Office. 
On March 30 Miller was indicted by a Calcasieu Parish Grand Jury and a warrant was issued for his arrest.  Later the same day the CPSO Warrants Division located Miller at his place of employment, where he was arrested and booked into the Calcasieu Correctional Center and charged with aggravated rape.
Judge Thomas Quirk ordered Miller be held without bail.
CPSO Detective Michael Primeaux is the lead investigator on this case.