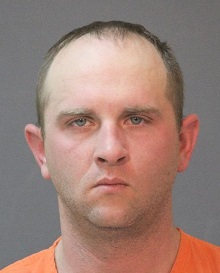 Lake Charles –
On March 14 at approximately 1:45 a.m., a Calcasieu Parish Sheriff's Office deputy was conducting a business check at a local gas station in Sulphur when he was made aware that a man, later identified as Brandon W. Dinger, 31, 790 E. Houston River Road, Sulphur, was arguing with a woman at the gas station.  When the deputy attempted to make contact with Dinger he fled the scene in a reckless manner in his truck out of the parking lot.  When the deputy attempted to conducted a traffic stop, Dinger refused to comply and traveled at a high rate of speed to his residence, where deputies were able to detain him.  It was learned that Dinger had a suspended driver's license for a prior DWI and he also advised deputies he had drank approximately 12 beers. 
Dinger performed poorly on a standard field sobriety test.  Dinger, who had two prior DWI arrests, then submitted to a breath intoxilyzer test which revealed he was over the legal limit.  He was arrested and booked into the Calcasieu Correctional Center and charged with DWI 3rd; operating a vehicle while under suspension for prior DWI; flight from an officer; and reckless driving.  Judge Robert Wyatt set his bond at $32,500.
CPSO Cpl. Christopher Rabb was the arresting deputy on this case.