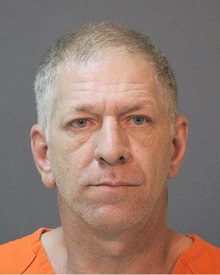 Lake Charles –
On February 9 at approximately 10:00 p.m. the Calcasieu Parish Sheriff's Office responded to a call in the 1200 block of I-10 Mobile Village Road in Iowa in reference to two men being hit by a car. The investigation revealed Ralph L. Leblue, 52, 583 I-10 Mobile Village Road, Lot #48, Lake Charles, the driver of a pickup truck, was traveling northbound on I-10 Mobile Village road when he crossed the center line and struck two pedestrians, who were walking in the southbound lane. One of the pedestrians was airlifted to Lafayette where he was treated and released. The other pedestrian, Christol Doucett, Jr., 21, Iowa, was transported to a local hospital where he was pronounced dead. As mandated by state law, a toxicology report was conducted on the driver.
Deputies received the results of the toxicology test which resulted in a warrant being issued on March 7 signed by Judge Guy Bradberry in the amount of $827,500 for Leblue's arrest. Later the same day the CPSO Warrants division located Leblue at his residence. He was arrested and booked into the Calcasieu Correctional Center and charged with vehicular homicide; vehicular negligent injury; careless operation of a vehicle; no insurance; and failure to register a vehicle.
CPSO Sgt. Bryan Guth is the lead investigator on this case.