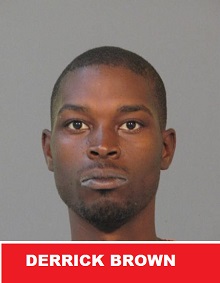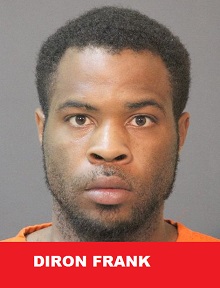 Lake Charles, LA –
Yesterday morning, February 22, at approximately 7:00 a.m., the Calcasieu Parish Sheriff's Office responded to a home on Bennett Rd. in Lake Charles in reference to a shooting.  The homeowner advised deputies that Derrick Brown, 31, 7950 Clearview Drive, Lot 19, Lake Charles, an ex-acquaintance of one of the residents in the home, was attempting to break into their home.
The complainant stated they were awakened by Brown attempting to gain entry into the home.  She then stated she tried to hold the door to prevent Brown from entering but was overpowered.  Once Brown opened the door she told deputies she then shot him.  Brown fled the home on foot to his car, which was parked at a cemetery behind the residence, where his friend, Diron Frank, 28, 2444 Salmon Drive, Lake Charles, was waiting for him in the car.  Once Brown arrived at his car Frank drove him to a local hospital, which does not have an emergency room, to be treated for his injuries sustained during the shooting.
Deputies located Brown and Frank at the hospital and provided medical assistance until Brown could be airlifted to a local hospital emergency room for treatment.  When deputies were speaking with Frank they learned he was in possession of approximately 8 grams of cocaine and a cell phone, both of which he claimed belonged to Brown. 
After further investigation detectives learned the cell phone they recovered from Frank at the hospital was stolen during a burglary on February 20 at the same home on Bennett Rd.  It was also learned Brown used a set of keys that were also reported missing after the burglary, to gain entry into the home before the shooting.  Following the burglary on the 20th, Brown returned back to the home hours later and drove away in the victim's 2005 Dodge Caravan, which has yet to be recovered.  Detectives were advised by several witnesses that over the past several days Brown had been stalking a resident that lived in the home on Bennett Rd. and threatened the family as well as threatened to damage their property. 
Frank was arrested at the hospital he drove Brown to for medical assistance.  He was booked into the Calcasieu Correctional Center and charged with possession of CDS II (Cocaine).  Judge Ron Ware set his bond at $2,500.
Brown was arrested at the emergency room of the hospital where he was airlifted.  He is being treated for non-life threatening injuries sustained from the shooting and once released, he will be booked into the Calcasieu Correctional Center.  Brown is being charged with simple burglary of an inhabited dwelling; attempted simple burglary of an inhabited dwelling; illegal possession of stolen things; possession of CDS II (Cocaine) with the intent to distribute; stalking; theft over $750; and theft of a motor vehicle.  Judge Ware set his bond at $44,000. 
CPSO Detective Jerod Abshire is the lead detective on this case.