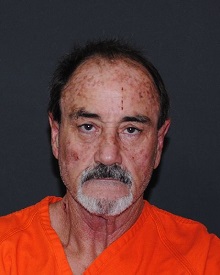 Lake Charles, LA –
On December 5, 2016 the Calcasieu Parish Sheriff's Office received a complaint regarding a convicted sex offender, Robert L. Lognion, 57, 1115 Lake Ridge Lane, Lake Charles, having inappropriately touched two girls, ages 9 and 10, while they were visiting at his home. 
After further investigation on February 13 detectives issued a warrant for Lognion's arrest signed by Judge David Ritchie in the amount of $950,000.  On February 15 Lognion was located at his residence and was arrested and booked into the Calcasieu Correctional Center and charged with aggravated crime against nature; and indecent behavior with a juvenile. 
Lognion was convicted of sexual battery and indecent behavior with a juvenile in Calcasieu Parish in 1995.
CPSO Detective Michelle Robinson is the lead investigator on this case.