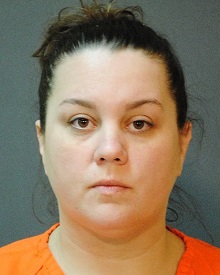 Lake Charles –
On February 3 at approximately 8:40 a.m., Calcasieu Parish Sheriff's Office deputies responded to a home in Moss Bluff in reference to a welfare concern.
Upon arrival, deputies made contact with two children, ages 11 and 4. When deputies spoke with the 11 year old she stated her mother, later identified as Krystal M. Green, 34, Moss Bluff, had left sometime the previous night to go to work and had not returned. She also told deputies her 13 year old brother was home but had left earlier that morning to go to school. While deputies were still on scene a family acquaintance arrived and stated that Green had called her to go check on her children and stated she had stayed at a friend's house. Deputies were informed by more than one acquaintance that Green has left the children home alone on several other occasions.
At approximately 9:40 a.m. Green arrived at the home and told deputies she left her children home alone so she could go to work. After further investigation Green was arrested and booked into the Calcasieu Correctional Center and charged with child desertion. She was released later the same day on a $3,000 bond set by Judge Ron Ware.
The children were placed in the care of a family acquaintance by the Department of Children & Family Services.
CPSO Deputy Sabrina Benoit is the arresting deputy on this case and Detective Michelle Robinson is the lead investigator.