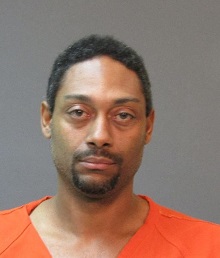 Lake Charles, LA –
Yesterday morning at approximately 1:20 a.m. the Calcasieu Parish Sheriff's Office responded to a call in reference to a shooting at a home on Sharon Lane in Lake Charles. 
Upon arrival deputies learned Kevin S. Edwards, 36, Orange, Texas, shot a man who was located inside the residence by shooting through the bathroom window.  The victim was transported to a local hospital where he underwent emergency surgery and remains in the Intensive Care Unit.  The homeowner, who is ex-acquaintances with Edwards, suffered minor injuries to her arm from glass debris during the shooting.  There were also children located inside the home during the shooting who sustained no injuries. 
Detectives learned Edwards was living in Orange and later the same day, with the assistance of Texas law enforcement authorities, were able to locate him at a residence he had been staying at for approximately one week.  When detectives made contact with Edwards he agreed to come to the Calcasieu Parish Sheriff' Office to speak with detectives.  While Edwards was speaking with detectives he confirmed his involvement in the shooting.  Detectives also located the assault rifle that was used during the shooting after a search of the property where Edwards was located.
Edwards was arrested and booked into the Calcasieu Correctional Center and charged with attempted 1st degree murder.  Judge Ron Ware set his bond at $120,000.
CPSO Detective Beth McGee is the lead investigator on this case.