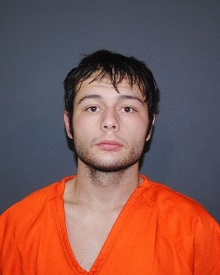 Lake Charles –
On Wednesday, January 11 at approximately 10:00 p.m. a man entered the Highway 90 Express, located at 1193 Highway 12 East, in DeQuincy, armed with a handgun and demanded money from the clerk. The clerk did not comply and pulled a bat. The suspect fled the store on foot, after breaking the door, into the wooded area near the store. After viewing surveillance footage and receiving numerous tips on the identity of the suspect, detectives were able to identify him as Jeremiah T. Brantley, 22, 17788 Highway 171, Ragley. After further investigation on January 19 Judge Clayton Davis signed a warrant in the amount of $75,000 for Brantley's arrest.
On January 20 the CPSO Warrants Division and ACT-Team located Brantley at his residence. He was arrested and booked into the Calcasieu Correctional Center and charged with attempted armed robbery.
CPSO Detective Beth McGee is the lead investigator on this case.