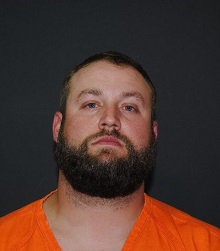 Lake Charles –
On January 12 Calcasieu Parish Sheriff's Office detectives received a complaint regarding an employee stealing from an electric company in Sulphur, where he was employed.  During the investigation detectives were informed by the company that from September 2014 until January 2017 Cody T. Lyles, 2845 Country Club Road, #1207, Lake Charles, had credited his personal credit and debit cards for company inventory.  They stated they were able to identify Lyles as the suspect due to salesman logs from when the incidents took place.       
Detectives located Lyles at the business and he was transported to the Calcasieu Parish Sheriff's Office for questioning.  When detectives questioned Lyles he stated when he would look in the warehouse inventory and see discrepancies, there were more in the warehouse than in the computer inventory, he would do a return on the item and receive the refund on his personal cards and the computer inventory would then match the warehouse inventory.  Detectives were able to identify three cards belonging to Lyles that had been used for the credits with a total of returned credits approximately $185,000.    
Lyles was arrested and booked into the Calcasieu Correctional Center and charged with theft over $25,000.  He was released later the same day on a $25,000 bond set by Judge Michael Canaday. 
CPSO Detective Michelle Fontenot is the lead investigator on this case.