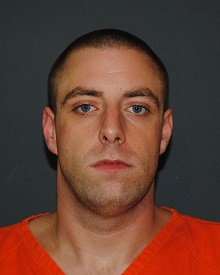 Lake Charles –
On December 6, at approximately 12:30 p.m. the Calcasieu Parish Sheriff's Office was dispatched to Diamond Durrell's in Lake Charles in reference to a theft.    
The investigation revealed a man, later identified as Steven W. Sullivan, 25, 3588 Big Lake Road, Lake Charles, entered the store and began looking at jewelry that was not enclosed in a display case.  It appeared Sullivan picked up the jewelry and placed it back, but when deputies viewed video surveillance at the store is showed him placing his hands in the pocket of his hoodie.  After Sullivan left the store, employees learned that seven rings and one necklace, totaling approximately $1,600, was missing. 
On December 20, after further investigation, Judge Guy Bradberry issued a warrant in the amount of $10,000 for the arrest of Sullivan.  He was located the same day, arrested and booked into the Calcasieu Correctional Center and charged with theft $750 to $5,000.  When deputies spoke with Sullivan he confirmed he stole the jewelry, but deputies were unable to locate the stolen property. 
CPSO Detective Kim Sittig is the lead investigator on this case.
The investigation in continuing.