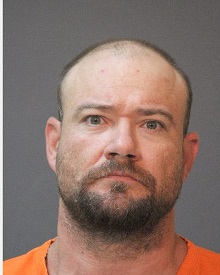 Lake Charles, LA –
On July 9 the Calcasieu Parish Sheriff's Office received a complaint regarding Thad E. Cormier, 40, 408 Morgan Lane, Sulphur, having inappropriate images of a juvenile on his phone. 
On July 22, detectives received another complaint regarding Cormier, having inappropriate sexual contact with a female family member in October of 2005, when the girl was 3 years old.   Deputies attempted to locate Cormier for questioning but were unsuccessful.    
On November 8, detectives located Cormier, who was incarcerated at Sulphur City Jail on unrelated charges.  When they spoke with Cormier in reference to the inappropriate images on his phone he admitted to hiding a camera in the home and capturing videos of the girl changing clothes, approximately 2 years ago when the girl was 11 years old.  Cormier was arrested and booked in the Calcasieu Correctional Center and charged with video voyeurism and pornography involving a juvenile.  Judge Clayton Davis set his bond at $100,000.
On December 1, while Cormier was still incarcerated, detectives spoke with him again in reference to inappropriately touching a family member and he confirmed the victim's story.   Cormier was arrested and additionally charged with aggravated incest.  Judge Clayton Davis has set his bond at $500,000.  A new LA law has changed the crime of aggravated incest to crime against nature but he was charged under the old law because the unlawful occurrences happened prior to the new law becoming effective.
CPSO Detective Keeba Barber and Charles Trosclair are the lead investigators on these cases.