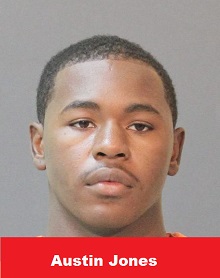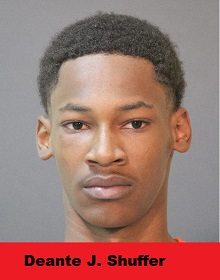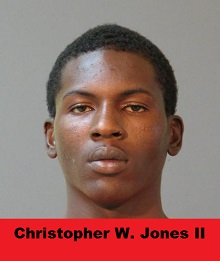 Lake Charles –
Yesterday morning at approximately 9:40 a.m. the Calcasieu Parish Sheriff's Office responded to a call in reference to a burglary in progress at a residence in the 2600 block of North Perkins Ferry Road in Moss Bluff.  While enroute deputies learned shots had been fired.  Once deputies arrived on scene and spoke with the victim they learned 3 men forced their way into the residence, demanded money and shot the victim twice, once in the arm and once in the leg.  Deputies learned the suspects fled the area on foot with an undisclosed amount of cash and several stolen items, to a getaway car that was parked in the vicinity of the residence.
After further investigation detectives followed several leads and were able to identify all three of the suspects in connection with the shooting, Austin Jones, 17, 688 Sioux Drive, Moss Bluff, Deante J. Shuffer, 18, 260 Armistead Lane, Moss Bluff, and Christopher W. Jones II, 22. 
Later the same day at approximately 1:00 p.m. A. Jones turned himself in to the Detectives Division and was arrested and booked into the Calcasieu Correctional Center.  A short time later members of the CPSO ACT-Team located Shuffer walking on Anita Drive in Lake Charles.  When deputies first made contact with Shuffer he attempted to lie about his identity.  Shuffer was arrested and booked into the Calcasieu Correctional Center.  Detectives were unable to locate C. Jones and issued a warrant for his arrest.  All 3 men are being charged with attempted 1st degree murder, armed robbery; and armed robbery with the use of a firearm.  Judge Clayton Davis set all their bonds at $1.2 million each. 
The investigation is continuing.
The victim sustained non-life threatening injuries and was transported to a local hospital for treatment.
CPSO Detective Travis Lavergne is the lead investigator on this case.