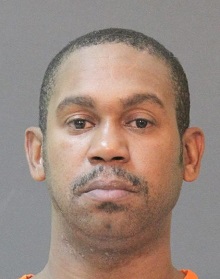 Lake Charles –
On November 21 at approximately 9:50 p.m.  Calcasieu Parish Sheriff's Office deputies were dispatched to a gas station on the I-10 Service Road in Lake Charles in reference to a drunk man attempting to drive off in a car.  While deputies were in route they witnessed a car, matching the description given by the complainant, running a red light near the store.  Deputies conducted a traffic stop and made contact with the driver, Donovan J. Boutte, 33, 2825 3rd Street, Lake Charles.
When deputies spoke with Boutte they detected a strong odor of alcohol emitting from his person along with slurred speech and unsteady balance.  Boutte could not stand on his own and was unable to perform standard field sobriety testing due to his impairment.  Boutte, who was two prior DWIs, refused to submit a breath intoxilyzer test.  It was also learned he was driving under suspension for a previous DWI. 
Boutte was arrested and booked into the Calcasieu Correctional Center and charged with DWI 3rd; failure to stop at a stop sign; and driving under suspension for prior offenses.  Judge David Ritchie set his bond at $31,000 with special conditions being he cannot operate a vehicle without ignition interlock device and a valid driver's license and he cannot commit any other crimes.
CPSO Sr. Cpl. Ben White and Deputy Kelsey Morris were the arresting deputies on this case.