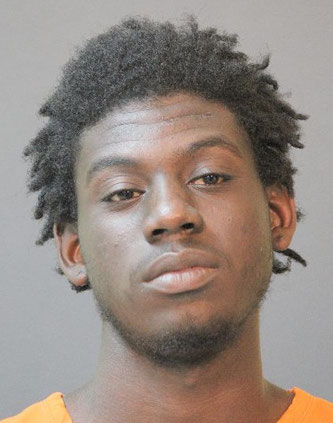 Lake Charles –
On November 19 at approximately 9:30 p.m. the Calcasieu Parish Sheriff's Office received a call in reference to a black GMC pick-up truck driving erratically near the area of Coach Williams Drive and Old Spanish Trail in Sulphur.
Minutes later deputies located the truck and attempted to stop the driver, later identified as Derrick Randle, 17, LaPlace, for a traffic violation. Randle initially refused to stop the vehicle, leading deputies on a pursuit for several miles. Once Randle stopped the truck he ignored commands from deputies and quickly put the truck in reverse and backed up, hitting a patrol car that was occupied by two deputies. Randle then drove the truck forward hitting a concrete barrier and again reversed quickly and intentionally swerved toward deputies, who were standing outside of their patrol car, nearly missing the deputies. The deputies drew their guns and fired at the truck, striking it several times, in an effort to end the threat but Randle was able to flee the scene unharmed. After fleeing Randle crashed the truck into a ditch near the 700 block of West Burton Street in Sulphur, and fled on foot.
After further investigation on November 20 detectives located Randle, who was still in the same clothes from the previous day. Detectives also learned Randle had stolen the truck from an apartment complex in Sulphur sometime before the incident. Randle was arrested and booked into the Calcasieu Correctional Center and charged with 2 counts of attempted first degree murder. Judge Guy Bradberry ordered Randle be held with no bond.
"I am very thankful that our deputies were not injured during this incident. This is a dangerous profession and we are lucky to have such dedicated young men and women that are willing to put their lives on the line every day to protect our community," stated Sheriff Tony Mancuso. "Our detectives worked tirelessly tracking every lead until they were able to identify and locate Randle, who was in town visiting his family."
CPSO Detective Jerod Abshire is the lead detective on this case. This case is still under investigation and more charges are likely.