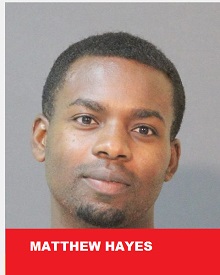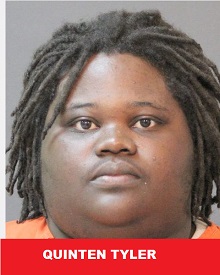 Lake Charles –
On Saturday morning, October 22 around 9:20, CPSO deputies were dispatched to a house on S. Grand Ave in DeQuincy in reference to a woman whose boyfriend wouldn't let her leave the house.
The victim told investigators that Matthew T. Hayes, 29, 717 S. Grand Ave., DeQuincy, held a gun to her head during an argument and would not let her leave the house.  When Hayes went to take a shower, he gave the gun to Quinten D. Tyler, 23, who was also a resident of the house, and told him to watch the victim and shoot her if she attempted to leave.  The victim reported Tyler held the gun on his lap while Hayes was in the shower.  She was able to flee the house with her baby daughter to a neighbor's house where she called 911.
When deputies arrived at the neighbor's house, they heard a gunshot coming from the S. Grand Ave. house.  Hayes and Tyler were ordered out of the house and taken into custody.  A search warrant was obtained for the house and a handgun matching the victim's description was recovered.  There also appeared to be a bullet hole in the ceiling of the room where the handgun was located but no spent shell casings were located during the search of the house.
Hayes and Tyler were booked into the Calcasieu Correctional Center.  Both are charged with Aggravated Assault with a Firearm; and False Imprisonment while Armed with a Dangerous Weapon.  Judge David Ritchie set bonds for both Hayes and Tyler at $250,000 each.
CPSO Deputy Michael Lavergne was the arresting deputy and CPSO Detective Cody Fontenot is the lead investigator on this case.