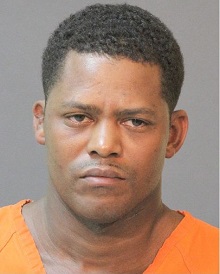 Lake Charles –
On October 17 at approximately 11:40 p.m. a Calcasieu Parish Sheriff's Office deputy conducted a traffic stop on a car near the intersection of Highway 14 and 9th Street in Lake Charles for a traffic violation.  When the deputy spoke with the driver, Kirby Alfred, III, 42, 418 N. Booker Street, Lake Charles, he detected an odor of alcohol emitting from his breath.  He also observed Alfred to have red glossy eyes and unsteady balance.  The deputy also learned that Alfred's driver's license was suspended for a prior DWI 2nd arrest.
After Alfred performed poorly on a standard field sobriety test, he refused to submit to breath intoxilyzer testing. 
Alfred was arrested and booked into the Calcasieu Correctional Center and charged with DWI 3rd; improper lane usage; unlawful refusal to submit to chemical test; and driving under suspension for prior DWI.  He was released later the same day on a $19,500 bond set by Judge David Ritchie with special conditions being he cannot operate a vehicle without ignition interlock device and valid driver's license, not allowed to consume any alcohol, and cannot commit any other crimes.
CPSO Sr. Cpl. Tony Jones was the arresting deputy on this case.