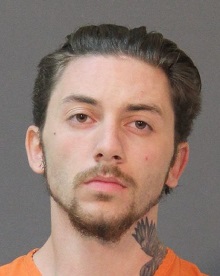 Lake Charles –
On October 9 the Calcasieu Parish Sheriff's Office conducted a traffic stop on a vehicle on Fruge Road in Moss Bluff for a traffic violation.  When deputies spoke with the driver she stated she was bringing the passenger, Chantz W. Nix, 21, 1612 Houston River Road, Westlake, to a home on Fruge Road where he told her was his residence.  When deputies spoke with Nix, who is a convicted sex offender, he told deputies he sometimes stays at the home on Fruge Road and at other times stays at a home on Houston River Road. 
After further investigation deputies learned Nix only has one of the addresses he stays at registered with law enforcement, making him in violation of his sex offender registration requirements.  Nix was arrested and booked into the Calcasieu Correctional Center and charged with failure to register as a sex offender.  Judge Guy Bradberry set his bond at $25,000.
Nix was convicted of aggravated rape in 2011 in Calcasieu Parish.
CPSO Deputy Joshua Francis is the arresting deputy in this case.