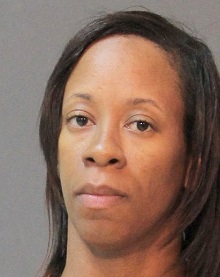 Lake Charles –
On October 7 at approximately 7:20 a.m., Calcasieu Parish Sheriff's Office deputies were dispatched to a home on Crawford Drive in Moss Bluff in reference to a burglary in progress.  Upon arrival, deputies were informed by the complainant that when he walked over to a family member's home who lived next door to him, he witnessed someone in a mask attempting to hide by the back door of the home.  He was able to detain her until deputies arrived.  The suspect, later identified as Nicole R. Noel, 29, Baton Rouge, was found to be in possession of a bag that contained duct tape, rope, electrical extension cords, spray paint, and wasp spray.  When deputies spoke with Noel she stated she was going to use the items in her bag against one of the residents in the home, an ex-boyfriend, who she thought was home at the time. 
After further investigation deputies learned Noel had parked her car on a street nearby and walked to the home on foot through a wooded area.  Noel stated she had followed the victim, without his knowledge, to the home a few weeks earlier.  She also confirmed to detectives that she was the one who vandalized the victim's Jeep with spray paint on a previous date.  Upon completion of the investigation, charges may be pending on this incident.
Noel was arrested and booked into the Calcasieu Correctional Center and charged with attempted home invasion; and stalking.  On October 9 she was released on a $15,000 bond set by Judge Guy Bradberry.
CPSO Cpl. Jordan Sexton and Cpl. Elliot Phillips were the arresting deputies in the case.  CPSO Detective Cody Fontenot is the lead investigator on this case.