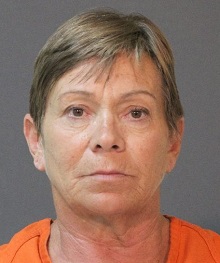 Lake Charles, LA –
On September 15 the Calcasieu Parish Sheriff's Office Combined Anti-Drug Task Force (CAT Team) along with Homeland Security Investigations (HSI) conducted a covert operation in reference to Sandra M. Miller, 59, Iowa, illegally purchasing pills advertised as Oxycodone over the internet from an online black market pharmacy and having them shipped to her residence.    
During the investigation detectives obtained a search warrant for Miller's residence, which revealed the illegally purchased pills, as well as, other pills that are pending analysis.  Upon initial analysis of the online pills, detectives observed them to be shaped, colored, and imprinted to look like pharmaceutical Oxycodone, but initial testing revealed they were a combination of heroin, caffeine, and cough suppressants.
 Miller was arrested and booked into the Calcasieu Correctional Center and charged with possession of CDS I (heroin).  She was released the next day on a $50,000 bond set by Judge Guy Bradberry.
 "Through similar investigations we have learned that most of the time these online companies are not legitimate," stated Sheriff Tony Mancuso.  "These black market pharmacies will distribute various unknown substances advertised as a controlled medication at a better price to attract buyers to purchase their product.  This is a perfect example of one of the risks people take when they attempt to purchase illegal drugs."