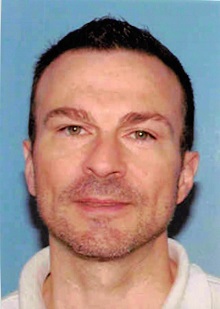 Lake Charles –
This morning at approximately 7:50, the Calcasieu Parish Sheriff's Office received a call from the owner of a motorhome to report it stolen from his home on Highway 378 in Moss Bluff.  Within a minute a deputy saw the motorhome stopped at a traffic light.  The deputy exited his car and attempted to get the driver, later identified as Dennis J. Deville, 46, Moss Bluff, to get out of the motorhome; however, Deville turned the wheels toward the deputy and struck him with the motorhome.  The deputy drew his gun and fired once into the motorhome in an effort to defend himself and stop Deville but he drove off instead with the deputy and off-duty Jeff Davis Parish Sheriff's Office deputy in pursuit. 
Deville drove off into the woods at the intersection of Theriot Rd. and Mistretta Rd. where the motorhome became immobile after being lodged between two trees.  Deputies heard a gunshot from inside the motorhome.  They were able to use the bearcat to dislodge the motorhome in order to make entry.  Once inside deputies discovered Deville dead from an apparent gunshot wound to the head.
The deputy who was hit by the motorhome was checked out at a local clinic and released.