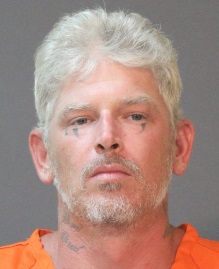 Lake Charles, LA –
On August 1 the Calcasieu Parish Sheriff's Office received a complaint from a man who reported approximately $1,600 worth of tin stolen from his property near McNeese Street and Highway 14 in Lake Charles.  A short time later deputies received another call stating that the stolen tin was seen in the bed of a truck.  The witness stated he saw the driver of the truck, later identified as Shaun B. Chmielewski, 36, Crestin, LA, park the truck at a local hotel on Broad Street in Lake Charles and get into a SUV and drive off. 
Deputies were able to locate and stop the SUV and detain Chmielewski, at which time he gave deputies permission to search the vehicle.  Deputies were unable to locate the stolen tin, but located a firearm inside the SUV.  Chmielewski was transported to the Sheriff's Office to speak with detectives and he advised them he had stolen the tin and was going to sell it for scrap metal.  Chmielewski told detectives where the truck was located and also gave detectives permission to search the truck.  Detectives located the truck along with the stolen tin in the parking lot of the hotel. 
Chmielewski was arrested and booked into the Calcasieu Correctional Center and charged with theft $750-$5,000; and possession of a firearm by a convicted felon.  Judge Robert Wyatt set his bond at $13,500. 
The stolen tin was returned to the victim.
CPSO Detective Roy Pesson is the lead investigator on this case.