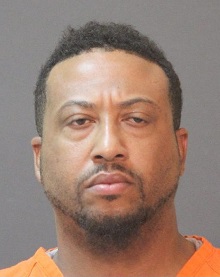 Lake Charles –
On July 25 the Calcasieu Parish Sheriff's Office Sex Offender Unit received information concerning convicted sex offender, Nicholas A. Harmon, 35, 3204 Burton Street, Lake Charles, having a social media page.  According to Harmon's registration requirements he is prohibited from having any social media due to the age of his victim.  During further investigation on August 8, detectives also learned that Harmon had been residing at a home on Burton Street in Lake Charles, which was a different address than what he had registered with law enforcement.  Detectives were aware that in February Harmon had asked if he could reside at the home on Burton Street, but was advised by the Sex Offender Unit he was unable to stay there due to a daycare being located less than 1000 feet from the residence, which is a violation of his registration requirements. 
 On August 9 Judge Guy Bradberry signed a warrant for Harmon's arrest in the amount of $25,000.  Later the same day Harmon was pulled over on a traffic stop and was found to be driving a vehicle that was not registered with law enforcement, making him in violation of his sex offender registration requirements once again.  When deputies spoke with Harmon he advised he had been driving the vehicle for approximately a month.  He also stated he had been living at the home on Burton Street since March.
Harmon was arrested and booked into the Calcasieu Correctional Center and charged with unauthorized use of social media website; unlawful presence of a sex offender; and 2 counts of failure to register as a sex offender.
Judge Guy Bradberry set his bond at $35,000.
Harmon was convicted of contributing to the delinquency of a juvenile by performing sexually immoral acts in Calcasieu Parish in 2011.   
CPSO Detective Shannon Chesson is the lead investigator on this case.