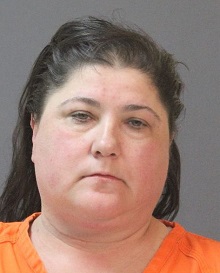 Lake Charles–
On July 15 the Calcasieu Parish Sheriff's Office received a complaint regarding Angel F. Owens, 45, 3715 New Castle Dr., Sulphur, with stalking and having inappropriate contact with a 15 year old girl, who was one of Owens' students at a local driving school.
During the investigation detectives learned that Owens gave the victim an iPhone so she could communicate with her. The victim stated to detectives that Owens told her to keep the phone hidden from her parents and threatened to "make the victim's family disappear" if she did not take the cell phone. Detectives were advised that when the victim called Owens by her name instead of "momma" she became extremely irate. Detectives also learned that Owens gave the victim a charm bracelet with "love momma" engraved on the charm. After further investigation it was revealed that between February and July, 2016, there was approximately 12,200 text messages and 650 phone calls between Owens and the victim. Some of the messages included inappropriate sexual language, as well as multiple texts implying Owens had been driving by the girl's home and stalking her. Detectives also learned that when the victim tried to get Owens to leave her alone, Owens threatened to kill herself.
On July 29 when interviewed by detectives, Owens she advised detectives she was obsessed with the victim and confirmed she had been stalking her. Owens was arrested and booked into the Calcasieu Correctional Center that day and charged with indecent behavior with a juvenile; and stalking. Judge Michael Canaday set her bond at $140,000 along with a no release order until a criminal stay away has been put in place.
If anyone feels they were victimized by Owens, please call lead investigator CPSO Detective Sarah Stubbs at 337-491-3790.