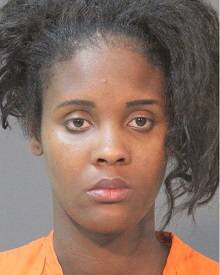 Lake Charles–
On June 21 at approximately 3:30 a.m. the Calcasieu Parish Sheriff's Office responded to a call at a local casino on Hwy 397 in Lake Charles in reference to suspicious circumstances. While enroute deputies were informed that a woman, later identified as Georgetta Augillard, 23, Baton Rouge, LA, was handcuffing a man and stating she was a detective from a police department in Texas.
When deputies arrived they observed a man handcuffed with his hands behind his back standing outside the casino. While taking off the handcuffs deputies observed they were toy handcuffs. Deputies spoke with the victim who stated he and Augillard met in the casino and when he went outside to leave she called him over and advised him she was a cop and he was going to jail. The victim advised deputies that Augillard then handcuffed him. Deputies talked with Augillard who stated that she worked for a law enforcement office in Baton Rouge. Deputies made contact with that agency, as well as one in Houston, who advised them that Augillard was not employed with them. A witness inside the casino told deputies while Augillard was inside the casino she stated multiple times that she was a law enforcement officer. She was unable to provide legitimate proof she was a law enforcement officer.
Augillard was arrested and booked into the Calcasieu Correctional Center and charged with false imprisonment; and fraudulent portrayal of a law enforcement officer. Judge Guy Bradberry set her bond at $15,000.
CPSO Sr. Cpl. Scott Rosteet was the arresting deputy on this case.