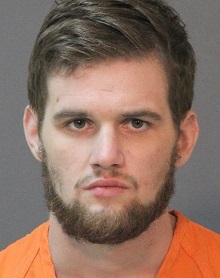 Lake Charles –
On May 23 the Calcasieu Parish Sheriff's Office received several calls in the Bell City area in reference to dead livestock. There were three victims at different locations who advised that 4 cows and 1 bull appeared to have been shot. During the investigation detectives learned of a possible suspect, Matthew G. LeBlanc, 23, 5251 Hwy 397, Bell City, who had been observed on May 22 in an ATV in the area where the livestock was found dead, near Robinson Road and Precht Road in Bell City. When the deputy questioned LeBlanc he stated that he was shooting an AR-15 in that area.
After further investigation detectives issued a warrant for LeBlanc's arrest signed by Judge Robert Wyatt for 5 counts of aggravated cruelty to animals in the amount of $75,000.
On May 29 while deputies were executing the arrest warrant on LeBlanc he was found in possession of liquid Xanax, as well as, drug paraphernalia and a firearm. He was arrested and booked into the Calcasieu Correctional Center and charged with 5 counts of aggravated cruelty to an animal; possession of CDS IV; possession of drug paraphernalia; and illegal carrying of weapons in the presence of CDS. Judge Robert Wyatt set his total bond at $92,500.
CPSO Detective Jennie Duncan is the lead investigator on this case.
The investigation is ongoing with more charges and arrests possible.