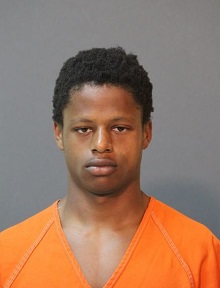 Lake Charles, LA –
Yesterday evening around 5 p.m. Calcasieu Parish Sheriff's deputies were dispatched to a home on Majestic Pines Drive in Sulphur in reference to a stabbing. Upon arrival deputies learned a former family acquaintance, Antonieo G. Smith, 17, Sulphur, had stabbed Robert Anderson, 69, and his wife, Rita Anderson, 57, both of 1106 Majestic Pines Drive, Sulphur, multiple times. Deputies also discovered that Smith had stolen the Anderson's truck and fled the scene before deputies arrived.
During the initial investigation detectives learned that Smith had broken into the Anderson's home and was waiting for them to arrive home. Prior to the Anderson's arrival Smith had begun to destroy the inside of the home. When they arrived home, Smith stabbed both of them multiple times. They were transported to a local hospital, where Robert was pronounced dead and Rita underwent emergency surgery.
Several minutes later, after the initial call in reference to the stabbing, at approximately 5:20 p.m. deputies observed a red Dodge pickup truck driving eastbound near the intersection of Broad Street and I-210 in Lake Charles at a high rate of speed. The truck failed to stop and swerved into the opposite lane of travel causing a collision with two other vehicles. The truck then lost control, flipped and ran off the road. When the deputy approached the scene of the accident to check the welfare of the occupants involved, Smith fled on foot. After a brief foot pursuit Smith was detained and transported to a local hospital to be evaluated. When deputies arrived at the hospital with Smith they were informed by CPSO detectives that Smith was the suspect from the stabbing that occurred earlier in Sulphur.
After being released from the hospital Smith was arrested and booked into the Calcasieu Correctional Center and charged with 2nd degree murder; attempted 2nd degree murder; armed robbery; aggravated burglary; illegal possession of stolen things over $1,500; reckless operation; flight from an officer; improper lane use; no driver's license; and running a red light. His bond is still pending.
Rita Anderson is still listed in critical condition.
Judge David Ritchie set Smith's bond at $2,000,000.
CPSO Detective Beth McGee is the lead investigator on this case.