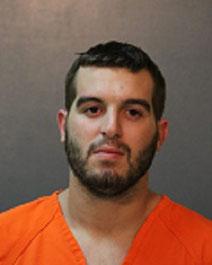 Lake Charles –
On May 10 at approximately 5:40 a.m. the Calcasieu Parish Sheriff's Office responded to a call in reference to a shooting. When deputies spoke with the victims they stated they were leaving their place of employment off Highway 27 in Cameron Parish when Matthew Savoie, 23, 172 Summerwood Drive, Sulphur, wrecked into their vehicle. The victims stated Savoie proceeded to get out of his truck and cause a disturbance. The victims then stated that both parties drove off and Savoie, who was traveling the same route, began to drive erratically. Savoie then fired several shots at the victim's car, near the intersection of Clay Street and Highway 1256 in Sulphur, striking the car several times.
After further investigation detectives issued a $70,000 warrant signed by Judge Ron Ware for Savoie's arrest later the same day. On May 11 Savoie turned himself into the Detectives Divisions. He was arrested and booked into the Calcasieu Correctional Center and charged with 2 counts of attempted second degree murder.
The driver of the car as well as the two occupants were not injured.
CPSO Detective Travis Lavergne is the lead investigator on this case.