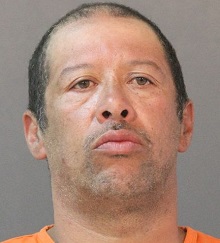 Lake Charles –
On May 8 at approximately 1:00 a.m. a Calcasieu Parish Sheriff's Office deputy conducted a traffic stop on a car near the intersection of E. Broad Street and 4th Avenue in Lake Charles. The driver, Harry J. Richard, 52, 3114 Center Street, Lake Charles, was driving carelessly. When the deputy spoke with Richard he observed him to have slurred speech and unsteady balance. When the deputy questioned Richard he told the deputy he had been drinking alcoholic beverages. Deputies also learned that Richard's driver's license was suspended for a prior DWI arrest.
After Richard performed poorly on a standard field sobriety test he was transported to the Calcasieu Parish Sheriff's Office for breath intoxilyzer test; which he refused.
Richard, who has 2 prior DWI arrests in the last ten years, was arrested and booked into the Calcasieu Correctional Center and charged with DWI 3rd; careless operation; and driving under suspension for prior DWI. He was released later the same day on a $9,000 bond set by Judge Clayton Davis.
CPSO Cpl. Freddy Galicia was the arresting deputy on this case.