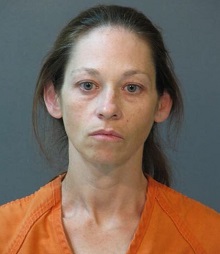 Lake Charles –
On April 4 the Calcasieu Parish Sheriff's Office Vice Division received a complaint from a local doctor's office regarding an employee, Gina M. Oakman, 42, 1122 West Verdine Street, Lot #14, Sulphur, obtaining prescription medication fraudulently.
The investigation revealed that Oakman was utilizing her employer's prescriber DEA number and calling the pharmacy for medication for herself. It was learned that Oakman fraudulently obtained unauthorized medication on 38 separate occasions at numerous pharmacies for approximately 2 years.
After a month long investigation, on April 26 Oakman was arrested and booked into the Calcasieu Correctional Center and charged with 38 counts of prohibited acts all schedules (obtaining CDS by fraud). Her bond is set at $51,000.
CPSO VICE Detective Jill Key is the lead investigator on this case.