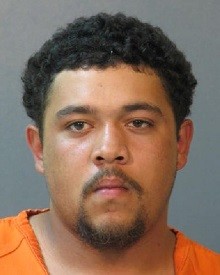 Lake Charles –
On April 20 at approximately 10:15 a.m. a Calcasieu Parish Sheriff's Office deputy conducted a stop on a SUV on West 18th Street in Lake Charles for a traffic violation.
When the deputy approached the vehicle and spoke with the driver, Antonio N. Scott, 19, 1410 N. Booker Street, Lake Charles, he appeared extremely nervous. . The deputy requested permission to search the vehicle and Scott gave consent. Suddenly without warning, Scott put the SUV in reverse, causing it to strike the deputy and run over his foot. The deputy fell to the ground at which time Scott slammed his SUV into the marked police unit. While attempting to leave the scene, Scott also stuck another vehicle causing light damage. The deputy was able to get in his unit and follow Scott. After a brief pursuit Scott stopped his SUV in the mall parking lot and fled on foot. Scott led the deputy through the mall to the food court where the deputy was forced to deploy his taser to arrest Scott.
When deputies spoke with Scott he stated the reason he fled was because he had marijuana inside the vehicle. After the search of the SUV deputies located a bag in the backseat that contained 18 sealed packages of what is believed to be synthetic marijuana and one zip lock bag of what is believed to be marijuana.
Scott was booked into the Calcasieu Correctional Center and charged with resisting arrest by flight from an officer; aggravated flight from an officer; simple criminal damage to property less than $500; simple criminal damage to property $500 to $50,000; aggravated battery; possession of marijuana; possession of drug paraphernalia; possession of a firearm in presence of cds; possession of CDS I with intent; and a traffic citation.
Judge Michael Canaday set his bond at $267,650.
The deputy was transported to the hospital and released with minor injuries.
CPSO Deputy Cpl. Joshua Smith is the arresting deputy on this case.