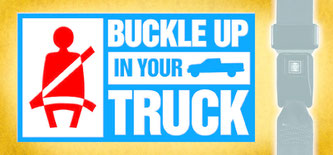 Lake Charles –
The Calcasieu Parish Sheriff's Office is participating in the crackdown on unrestrained drivers. The "Buckle Up In Your Truck," campaign that will start April 24 and end April 30 is a partnership with the Louisiana Highway Safety Commission (LHSC). This campaign is funded by grant money from the LHSC.
The Calcasieu Parish Sheriff's Office will have increased checkpoints and an increased number of deputies on the road, particularly aimed at targeting people not wearing their seatbelt in pick-up trucks, but also looking for anyone not wearing their seatbelt in any type of vehicle.
According to the LHSC, pick-up truck drivers and their passengers have the lowest seat belt usage rate in the state. Pick-up trucks comprise 25% of the vehicles on the road in Louisiana and are two times more likely to rollover than cars in fatal crashes. The LHSC also states that pick-up truck drivers in Louisiana have a significantly higher rate of unrestrained driver fatalities over cars and vans. "Unfortunately we sometimes see the deadly results that come from drivers and passengers refusing to wear their seatbelt. Wearing a seatbelt is one of the most important steps that could save your life in a crash. Our job is to stop those who are not buckled up, and keep them from becoming a statistic," said Calcasieu Parish Sheriff Tony Mancuso.