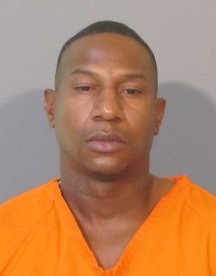 Lake Charles, LA –
On March 12 the Combined Anti-Drug Task Force (C.A.T. Team) received an anonymous tip that a man known as "Diesel," later identified as Durance A. Taylor, 42, 3409 Taylor Street, Lake Charles, from of New Orleans, was leading a heroin trafficking organization in the Lake Charles area. Detectives conducted a large scale surveillance operation as well as covert operations to verify the anonymous tip. Detectives were ultimately able to complete an undercover buy from Taylor, where he sold an undisclosed amount of heroin, that was recovered by the C.A.T. Team.
Detectives obtained a search warrant for Taylor's residence and with the help of the Lake Charles City Police Special Response Team were able to serve the warrant and secure the residence. Once inside Taylor's home they located marijuana, drug paraphernalia and money which is believed to be the proceeds of illegal drug activity. Taylor was arrested at his home without incident.
Taylor was booked into the Calcasieu Correctional Center on March 13 and charged with possession of marijuana; possession of drug paraphernalia; and distribution/manufacture/or possession of CDS I (heroin) with intent. His bond is set at $62,000 and he also has a detainer that was issued by Louisiana State Probation and Parole.
"We recognize the significant increased use of heroin throughout the United States. The C.A.T. Team is committed to prioritizing and targeting all heroin cases, complaints, and information they receive in Calcasieu Parish," says Sheriff Tony Mancuso. "C.A.T. detectives are aware of other groups that have been experimenting with heroin or plan to establish a local heroin market in Calcasieu Parish. These groups of individuals will receive the full attention of the C.A.T. Team investigators in order to prevent heroin from becoming pervasive in our community."