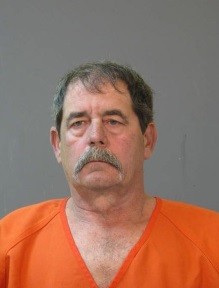 UPDATE:
Chris E. Hughes, 56, 6839 Gold Street, Lake Charles, was booked into the Calcasieu Correctional Center earlier this morning (March 11) after he turned himself into the CPSO Warrants Division.
Judge Michael Canaday set a new bond at $75,000 with special conditions of bond are that Hughes must surrender his passport, cannot leave Calcasieu Parish without the court's permission, and must stay away from the victim's family. 
Lake Charles –
On March 7 at approximately 9:20 a.m. Calcasieu Parish Sheriff's Office detectives responded to a call at a local hospital in reference to a battery. Upon arrival detectives spoke with the victim's family members and learned there had been an incident at a local bar in Lake Charles. Detectives were able to obtain video footage of the incident which shows Chris Hughes, 56, 6839 Gold Street, Lake Charles, struck Phillip T. Morgan, 64, Lake Charles, with an open palm to his face. Morgan subsequently fell backwards off his chair, hitting his head on the cement floor. Morgan was transported to a local hospital. Later the same day detectives issued a warrant for Hughes' arrest for second degree battery.
On March 10 detectives were informed that Morgan died from his injuries earlier that morning. Detectives upgraded Hughes' warrant from second degree battery to manslaughter. Judge Michael Canaday signed the warrant in the amount of $200,000.
CPSO Detective Jerod Abshire is the lead investigator on this case.