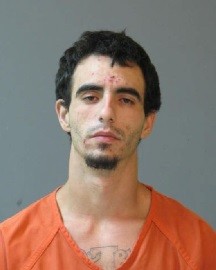 Lake Charles, LA –
Earlier this morning at approximately 10 a.m. the Calcasieu Parish Sheriff's Office Warrants Division, along with assistance from U.S. Marshall's Task Force, Beauregard Parish Sheriff's Office and Lake Charles Police Department, arrested Rocky L. Gordon, II, 25, 4926 Hiner Road, Starks. The CPSO Warrants Division received several tips in reference to Gordon staying in the area between Fields and Starks in Beauregard Parish. After conducting surveillance, deputies were able to confirm Gordon's whereabouts. When officers approached the home Gordon attempted to flee out the back door but was quickly detained and arrested.
A warrant for Gordon's arrest was issued On January 13 after he led CPSO deputies on a vehicle pursuit the previous day. Gordon lost control of the vehicle and flipped the SUV into a tree. Gordon then jumped out of the SUV and fled on foot into a wooded area, where deputies searched for over an hour but were unable to locate him. Deputies located a loaded .22 caliber rifle in the SUV as well as drug paraphernalia.
Gordon was booked into the Beauregard Parish Jail and transferred to the Calcasieu Correctional Center. He is being charged with a traffic citation; aggravated flight from officer; possession of drug paraphernalia; possession of firearm by convicted felon; and resisting arrest.
Judge Michael Canaday set his bond at $68,150.