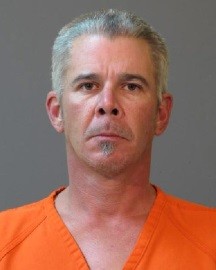 Lake Charles –
On February 24 at approximately 11:15 p.m. Calcasieu Parish Sheriff's Office deputies were dispatched to a home in Lake Charles in reference to a disturbance. Upon arrival deputies were informed a woman had been hit in the head with a bat. Further investigation revealed Paul D. Walling, 41, Lake Charles, had struck his girlfriend in the head and upper body repeatedly with an aluminum bat, and then fled the scene prior to the deputies' arrival. The victim sustained severe head trauma as well as other injuries to her upper body.
On February 25 detectives obtained a warrant for Walling's arrest signed by Judge Clayton Davis in the amount of $1,000,000. Later the same day Walling's vehicle was observed by deputies near the intersection of Highway 359 and Luke Powers Road in Lake Charles. Deputies initiated a traffic stop and placed Walling under arrest without incident. Walling was booked into the Calcasieu Correctional Center and charged with attempted second degree murder.
The victim was transferred to a local hospital for treatment, where she remains in the Intensive Care Unit.
CPSO Detective Beth McGee and Jerod Abshire are the lead investigators on this case.